Good morning to you! well, today started out yucky and like the rest of the nation, we're supposed to get more weather. School canceled, so I am thinking about making some heart cutout sugar cookies with the girls for Valentine's.
To celebrate my birthday, I'm having a sale in my
Etsy Shop
- in less then two weeks I'll be turning 3#%#$. oh sorry, um typo- thirty-coughcough. something. soooooo ... I thought it would be great to pass on the celebration and lower my prices. All ribbon is now just $3 for three beautiful yards of crinkled seam binding, in gorgeous colors. At that price, it's like buying 3 and getting your 4th ribbon for free (at regular pricing).
I wanted to share some fun Vinyl Cards I made for the Glue Arts blog last week. Have you ever thought of using Vinyl to create with, other then on windows or mirrors or walls? I used some acetate and created windows in my cards, then used the Accent It All to add these fun diecut images on it, it sticks right to the acetate and there are no ugly glue marks when you look at the back!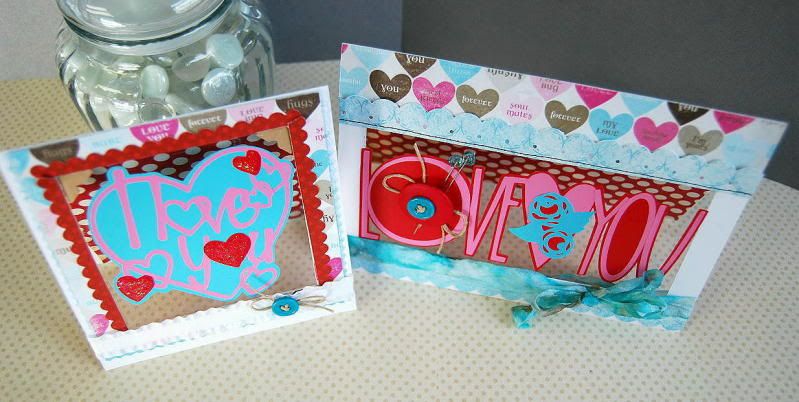 Supplies:
Glue Arts Accent it All- Tickle Me Pink, Wild Blue Yonder, and Razzle Dazzle Red
Glue Arts Glue Glider Pro- Perma Tac adhesive, and Glue Arts Adhesive Squares, Ribbon Adhesive, Mini Adhesive Squares
red dot paper- The Girl's Paperie
Blue and Heart paper- Around the Block
seam binding- www.etsy.com/shop/scrapinkris
gem/buttons/twine/pins- craft supply
ribbon- May Arts
deco scissors- provo mini scallop, zig zag fiskars
Cricut expression and Gypsy- Martha Stewart All Occasion Cake Art, and
Gypsy Wanderings
Acetate- Making Memories
photo corners
scallop punch- Martha Stewart
1. Cut card base into 5x5 square.
2. Trim patterned paper, and mount onto blue paper and trim with zigzag scissors, mount onto card using Perma tac adhesive.
3. Use Expression and Gypsy to create cut files for heart, cut out and adhere layers together.
4. Cut out window from card front, adhere acetate with Perma tac adhesive, and add to back of card. Turn card around and adhere Vinyl cutout to front of window.
5. Finish card by adding ribbon, button and twine with Adhesive Squares , and glitter glue to vinyl. Add polka dot paper to inside of card, and adhere trimmed mini scallop pieces around window using Ribbon Adhesive.
Instructions:
1. Cut card base to 5x7 inches.
2. Trim window from front of card, then adhere acetate to back of card front using Perma Tac adhesive.
3. Cut out vinyl using Cricut Expression/Gypsy and Martha Stewart Cake art cartridge. Adhere layers together then adhere to acetate window.
4. Adhere patterned paper strip to top of card.
5. Punch scallop border with punch, adhere to top and bottom of acetate window using Perma tac adhesive. Pen detail stitching along top border.
6. Tie ribbon around bottom of card, then adhere gem to center of bow with mini adhesive square.
7. Tie twine onto buttons, adhere to card using Adhesive Squares, adding two pins before adhering.
Omgosh! I posted and totally forgot about my fun giveaway. Totally separate from my Christmas pack giveaway, I am going to give a lucky winner a Pink Paislee Sweetness collection pack.
Wanna win? simply leave me a comment on this post, and become a follower of my blog. US/Canadian shipping only please. It's that easy. I'll chose a winner for this pack Monday Feb 7th. good luck!